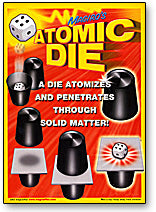 Atomic Die Trick
Regular price $51.99 Sale
The magician displays two black cups and one die. He tosses the die into one of the cups and lets it drop from one to the other several times showing there is nothing else inside the cup. Finally, he tosses the die into one of the cups and places the cup on the table.
Next, he takes a small plate and places it onto the cup containing the die. The second cup is placed inverted onto the plastic plate. Following a magical gesture he lifts up the inverted cup- the die has penetrated the plate from below and it's now lying on the plate under the cup! Then, he places one of the cups mouth-down onto the table, takes the die and places it in his jacket pocket. The die appears under the inverted cup once again!
Comes complete with two specially prepared plastic cups, necessary die, special plate made of soft material, and illustrated instructions.