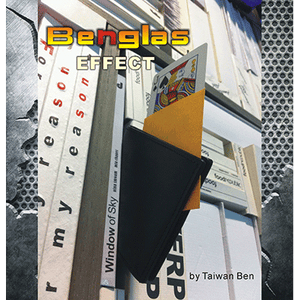 Benglas Effect by Taiwan Ben
Regular price $121.99 Sale
As known to everyone, the magicians have been figured out how the berglas effect works since many years ago. If you were still looking for the one you do not disappointed, I would like to present you the Be"n"glas effect that will be your favortie version.
This Product Features:
NO Stooges.
Instant Reset.
No deck switches.
Any Bicycle Deck can be used.
The deck of cards can be examined.
The wallet can be seen or put on the spectator's hand before the process.
Two spectator chosen their numbers at random.
Any Card can be your prediction.
Additional variations:
Two spectators are asked to name the number and the 3rd spectator choose any card
A sealed deck of card possibly.
Includes all props, full instructions and variations.

"The method is brilliant and joy to work with, a new weapon for working Pro."

- Albert Tam

,

 

FISM Asia Board President

"Ben's variation of the classic plot is practical and a real worker. One for me!"

- Jeremy Pei

,

 

Singapore