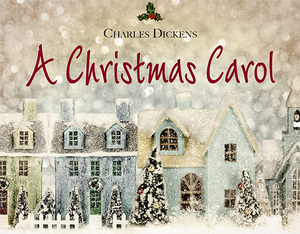 Christmas Carol Book Test by Josh Zandman. Amazingly easy!!
Regular price $58.99 Sale
This is one of Santa's Favorite books, so much so he has even memorized a lot of it!!  
Here's exactly what happens: 
Santa riffles through the pages of the book. 
The child or adult at any time, says stop and looks at the first word on the page. 
Santa knows the word without asking a single question or having anything written down. 
Highlights: 
Nothing to memorize 
No duplicate words 
No questions asked 
Nothing is written down 
Completely examinable
In effect, a paperback edition of the famous "A Christmas Carol" by Charles Dickens is displayed.  It can be casually examined by a spectator.  The book contains almost 170 pages.  The performer riffles the pages of the book with the pages facing the spectator.  The spectator stops the performer at any page and remembers the first word on that page.  The performer can divine the every word.
Cody S.
This is a great method. Performed it for a few people, a couple days after receiving it. They inspected the book and had no idea how it was done. It is a great addition to my repertoire.
Michigan
•
May 15th, 2020
Charlie M.
A wonderful book test! I've seen too many convoluted book tests - this one is not. It's straight forward, clean and easy to learn/perform. I love that the book can be passed out to the helper with no fear of exposure.
Loveland, OH
•
May 5th, 2020
Cole F.
Mentalism is usually my least favorite branch of magic. It's 90% hokey-pokey dramatics and 10% actually magic. This, however, is not. Straight, upfront, and easy to preform. So amazing, I had to complete the set and buy Gatsby. Totally recommended, from the experts to even the least experienced of amateurs.
Oakley CA
•
Apr 28th, 2020
Michael T.
So very impressive that I had to get The Great Gatsby & Sherlock Holmes to complete the set. There is no way for anyone to catch on to this. Foolproof! and Amazing! With these two books you'll have an arsenal of mentalism tools to keep everyone in pure amazement! The video instruction is fantastic and with very little practice you'll be a master at this. The additional material just takes this over the top! Grab Scarlet too! With all three books you'll have super-powers!!
84 PA
•
Mar 31st, 2020