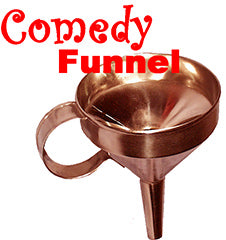 Comedy Funnel - Chrome plated, Brass
Regular price $28.99 Sale
Good clean humor is in big demand always for all types of shows. This effect can be adapted to many individual routines, and worked into any performer's act!

The shown-empty funnel when is placed at a spectator's elbow and his other arm is pumped, a full glass of liquid comes pouring out. Never fails to make a hit. Use it any time during the performance. You can garner many laughs with this ever-flowing funnel. Make your audience laugh and you are sure to be a success.

Ingeniously made in brass and chrome plated funnel, with a little care will give you a life-long service.