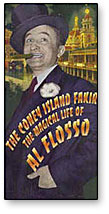 Coney Island Fakir
Regular price $36.99 Sale
"If there is a better all-around magician," master mentalist Joseph Dunninger wrote of Al Flosso, "I have yet to discover him." Combining subtle, sophisticated manipulations with his bold, gritty persona, Flosso's magic became legendary. Though he stood only 5'2", Flosso was a giant of the magic world.
The Coney Island Fakir is a remarkable book about a remarkable life. The book traces Flosso's fascinating career, from his days as a street-corner shill, carnival pitchman and sideshow magician to his work on Broadway, film and television. Lavishly illustrated with dozens of photos, The Coney Island Fakir provides a vivid portrait of this unique performer.
215 pages, 6"x9", full-color dust jacket. Printed on acid-free paper.
As an added bonus, this volume contains a reprint of Our Magic, produced by Flosso in the 1940s, Our Magic features classic tricks by Flosso, Al Baker, Ted Annemann and other top performers.