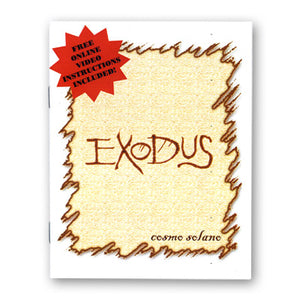 Exodus by Cosmo Solano
Regular price $0.00 $20.99 Sale
"4/5 stars rating!" -John Teo, Magic Boutique (Singapore)
8 Cards are removed from a Bicycle Deck of playing cards. They are handed to a spectator who merely thinks of one of them and places them between their palms for safe keeping. The card's identity is not written down, not whispered to anyone, no questions are asked...nothing!

The rest of the deck is shown to be normal and contain no duplicates, etc. And then, the spectator simply counts the cards and finds one missing. It IS the thought of card! And to finish, the card is found face down back in the deck.

"At Last! Proof that you can read your spectator's mind."

"A card effect with the qualities of a true performance piece."