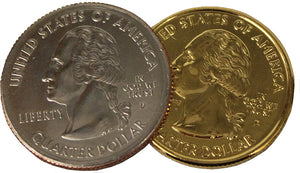 Midas Touch-EXPANDED QUARTER SHIMMED SHELL WITH MATCHING GOLD QUARTER BY CHAZPRO
Regular price $0.00 $41.99 Sale
Expanded, Shimmed U.S. Quarter Shell
with matching Gold Quarter, from Chazpro
 This expanded and shimmed quarter shell fits over a regular quarter and can be used for a variety of coin tricks, from Coin Matrix to vanishes and transposition effects. Routines can be found online, in books and on DVDs. 
 Shimmed! A shim has been added to this coin shell so it can be used with the Raven® magic trick, Magnetic Cards or Magnetic Pencils and similar devices. Perform amazing vanishes, changes and transformation!
 Bonus! This Expanded, Shimmed Quarter Shell comes with a matching Gold Plated Quarter and instructions for The Midas Touch, a routine that uses a Raven. Simply wave your hand over the regular quarter and it visual changes to gold …. in a spectator's hand! (Raven sold separately.) 
 This is a magic accessory that includes the Expanded, Shimmed Quarter Shell, matching Gold Plated Quarter and basic instructions.  The Raven, Magnetic Cards and Magnetic Pencils are available separately. 
Dates vary
All copyright, trademark and manufacturing rights to the Chazpro Coin Lines purchased by TheMagicStore.pro