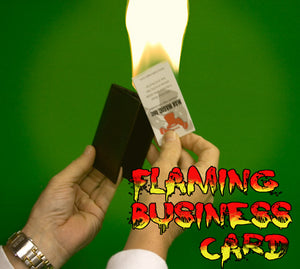 Flaming Business Card from Wallet -Leather Craft
Regular price $0.00 $26.99 Sale
Imagine.. being able to hand out your business card in a way that your next client will remember you for as long as they live. Imagine...being able to do this anytime, anywhere...with your own cards- as many times as you want! (No special print jobs.) You pull out a business-card case from your pocket. Take out your business card and the card literally bursts into flame! You hold the burning card in your hand just long enough for the effect to register. Now you blow out the flames and hand the card to the spectator! They are speechless and your card is completely normal and undamaged!
You can give out your cards in style
No matter what profession you are in!
No experience required, simple to do!
Includes Custom Designed, Black Leather Business Card Wallet and instructions.