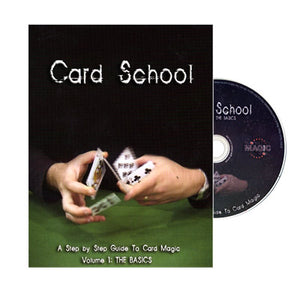 Garabed's Card School Volume 1 - The Basics
Regular price $0.00 $36.99 Sale
Finally...a card magic DVD which has all those workhorse sleights on one volume!
What is included? Australian based card magician Garabed shows you step by step how to
shuffle the deck,
cut the deck,
force a card,
control a card,
perform false cuts,
get breaks over or under single or multiple cards,
perform counts such as Elmsley and Flushtration,
fan with one or two hands,
perform simple flourishes,
simple sleights such as the glide, double lift, buckle and spread and more...
Slow motion and razor sharp pictures like never before make this the ideal learning tool. Over 30 moves and techniques in over 100 minutes! The perfect source for all newcomers to card magic and those wishing to sharpen their technique.
Note: DVD is in PAL format.  Many modern NTSC home players, and most computer DVD drives, will play this disc without problems.