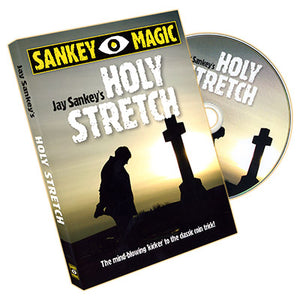 Holy Stretch (With DVD) by Jay Sankey
Regular price $0.00 $26.99 Sale
"Adding Holy Stretch to the original Holy Moly effect is like throwing gasoline on an already blazing fire."
-Jay Sankey 

Imagine you have just finished performing the worldwide best-seller HOLY MOLY. The audience is still reeling from the fact that you caused a real hole to mysteriously travel from one metal washer onto a second metal washer they were holding in their own hand. 

Then - just when they thought things could not possibly get any freakier - you take back the 2-holed metal washer and VISIBLY STRETCH it to a a full 3 INCHES IN LENGTH! 

Talk about magic that "doesn't take any prisoners!" It's just cruel. 

HOLY STRETCH comes complete with an extra 2-holed washer and a matching, specially-machined stretched washer. The full-length DVD teaches every detail of a variety of very clever handlings, suiting every type of performing condition and each with their own 'magic benefits!' 

Add a hardcore KICK to your HOLY MOLY routine today!
"If you do sleight of hand magic, this is a definite GEM for your arsenal, and at the price of $25.00 bucks for two gimmicks and a DVD, you can't go wrong." -Jeff Stone, MyLovelyAssistant