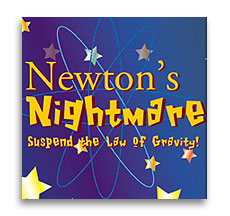 Newton's Nightmare
Regular price $0.00 $23.99 Sale
A brilliant synthesis of sorcery and science, Newton's Nightmare must be seen to be believed!
From the mind of William J. Schmeelk comes this gravity-defying miracle. A brass weight is dropped through an aluminum tube. It rockets through, falling into the spectator's hand. So far, so good.
But, at the magician's command, the weight drops through the tube in slow motion - like an astronaut bounding across the moon! The brass weight can be seen floating through the tube - even while the trick is in the package, making this a virtually self-performing miracle!
Newton's Nightmare is a delight to perform, and easy enough for any aspiring sorcerer - or scientist - to master.