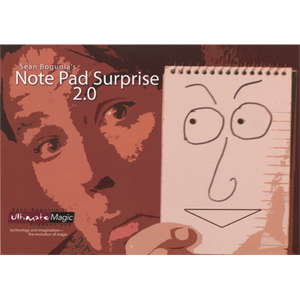 Note Pad Surprise 2.0 by Sean Bogunia
Regular price $0.00 $84.99 Sale
If you liked the old Note Pad Surprise, you are going to LOVE the Note Pad Surprise 2.0! Over the years Sean had many customers ask him for a better "life like" looking mouth. Well, now he's done it! The Note Pad Surprise 2.0 has a great "V" shaped mouth and better handling! Watch the new demo to see the new mouth in action!! Same great effect, still NO Switches and now a new "bendy" mouth!
Give away the same picture you actually draw and animate!
Imagine this, you take a simple 4" x 6" pad out of your pocket. You then draw a face on the page complete with eyes and mouth. Suddenly the eyes and mouth begin to move! After you have startled and amazed your spectators, you then tear off the same page that you drew the face on and hand it out as a souvenir! No switches!
This effect is very easy to perform and comes complete with everything you need for at least 80 performances!
You can easily refill with any 4" x 6" pad.
This is a must for the close-up or restaurant worker! Can be done over and over, resets almost instantly! No tricky moves or switches!