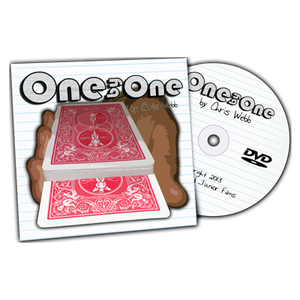 One By One (gimmick & DVD) by Chris Webb
Regular price $0.00 $26.99 Sale
A visual & logical ending to ANY Ambitious card routine.
Imagine a single, signed card melting through the entire deck one card at a time, visually! 
After coming all the way to the top, the card is handed back to the spectator to keep! They can even examine the deck...This finale can be added to the end of ANY ambitious card routine (or any card routine you choose). The gimmick is diabolical, the method is simple and the visual is absolutely insane! 
On this DVD Chris also teaches 2 extra routines using the 'One By One' Gimmick and principle. Shot in Full HD and with live performances. This set also includes two custom made gimmicks allowing you to use this with ANY deck. 
Come complete with Instructional DVD, Gimmicks and limited edition 1st run sleeve packaging.