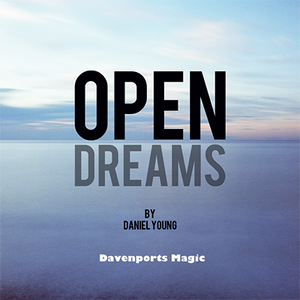 Open Dreams by Daniel Young
Regular price $0.00 $45.99 Sale
Have you ever experienced waking up one minute before your alarm goes off? 
Have you ever wanted to perform Paul Curry's, now classic, Open Prediction effect? 
In 
Open Dreams
, Daniel Young has combined the Open Prediction Effect with a meaningful presentation, that not only makes it easy to perform, but also highly deceptive and with a double climax, that has never been seen in an effect of this kind.
The cards are dealt face up from a shuffled deck, until they say stop. One card is dealt face down. Not only do you predict the card they would choose, but even the time they set their alarm to. 
You get the special pack, which can be examined and used before and after the effect. Also on this DVD you get detailed instructions of how to perform this effect in various situations and performing conditions, ranging from self-working to some sleight-of-hand required. 
Included:
A DVD with additional bonus variations using names and star signs instead of the time theme, as well as Daniel's latest thoughts on handling
Gimmicked deck of Bicycle playing cards and DVD
NOTE: You will NEED a Sharpie pen(s) (either black or a red and black) and a small note pad that is not supplied.