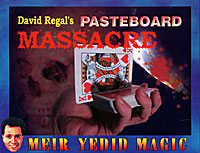 Pasterboard Massacre by David Regal
Regular price $21.99 Sale
David Regal's visual stunner is once again available! Featured on Volume One of The Magic of David Regal DVD/VHS series, Pasteboard Massacre is guaranteed to entertain.
Effect: A card is selected, signed and returned to the deck. You explain that you will find the card by "cutting" to it. Using a playing card like a buzz saw, the massacre begins. The card is used to saw through the entire top half of the deck, splitting the top twenty-six cards in half! The card that is stopped at, beneath all the mutilation is the signed selection!
Everything may be handed-out for immediate examination and the cards are reusable. Comes complete with a special poker-size Bicycle deck and photo-illustrated instructions.