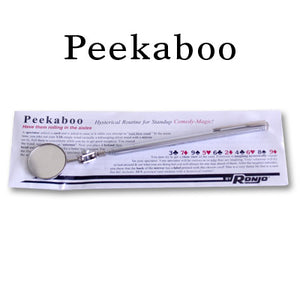 Peekaboo by Ronjo
Regular price $11.99 Sale
Have them rolling in the aisles!

Effect
A spectator selects a card and is asked to stare at it while you attempt to "read their mind". In the meantime, you take out your Y2K magic wand (actually a telescoping silver wand with a mirror on it). Tell them to concentrate while you try to get good reception. You extend the wand, turning it into an "antenna". Now you place it behind their head and draw them in close for a better transmission. For the first time everyone but your spectator can see the attached mirror.
You try to get a clear view of the card. Everyone is laughing hysterically except for your spectator. Your spectator will be curious as to why they are laughing. Your volunteer will try to turn around and see what you are doing but you will always be one step ahead of them. After the laughter subsides, you show that the back of the mirror has a label printed with the chosen card! This is a very funny bit that is a sure fire hit!
Peekaboo Includes 10 assorted card stickers with a hysterical routine.