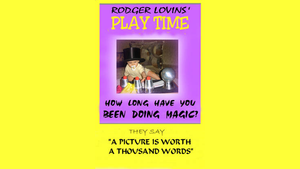 Play Time by Rodger Lovins
Regular price $20.99 Sale
The magician has two cards selected by two spectators. He tells them that a lot of people ask, "How long have you been doing magic?" He says that a picture is worth a thousand words. He takes out a photo of a small child, age 1, holding a playing card. He asks the first spectator to show their card. IT MATCHES THE CARD THE CHILD IS HOLDING IN THE PHOTO! Placing the photo onto the open outstretched hand of the 2nd spectator, he asks what card she selected. She turns her card over and reveals her selection. When the magician turns the laminated photo back over, the photo has changed and now the child star is holding the second spectator's selection! The photo never leaves their sight! Easy to do.
What they say about Play Time:
"Thanks Rodger,
Play Time
is my favorite trick to carry in my pocket!"
- Mac King
"Rodger Lovins has done it once again! He has created a piece of magic that is a real stunner! When Rodger sent me a copy of his new idea, I knew right away that
Play Time
would be another success in a long line of ideas coming from this magical genius."
- John Rogers
"It fits in my wallet and is with me at all times. I really like the way Rodger thinks!
Play Time
is a keeper."
- Stephen Bargatze
"I like this trick very much, as it is simple, commercial, and a fooler."
- Genii Magazine, December 2006
"I've become a big fan of Rodger Lovins' thinking. His thinking is clever, his routines thoughtfully constructed, and his props great pieces of work. I said that to say this:
Play Time
is probably his best work to date. This is a piece I genuinely love."
- VISIONS, August 2007