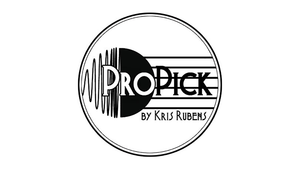 ProPick by Kris Rubens
Regular price $0.00 $40.99 Sale
If the words, "packs small and plays huge," are music to your ears, then this is the effect for you! 
After placing a single business card onto the table, you hand your spectator a handful of guitar picks, each bearing the name of a famous band. 
The spectator mixes up the picks and eliminates each, in turn, until only one remains. Turning over the prediction card, the spectator is puzzled to discover that the words, "Call Me," have been printed upon it. 
The spectator calls the magician's mobile phone, and is amazed to discover that the ringtone matches the band that they chose! 
Best of all, everything may be left for examination. 
Features: 
Different results each time 
No special apps required 
Prediction can be made on the spectator's phone 
Allows you to capture contact details to secure future bookings 
Alternative routine suggestions given (perhaps have a photo of you and the band member as your prediction) 
PICK up your copy today!