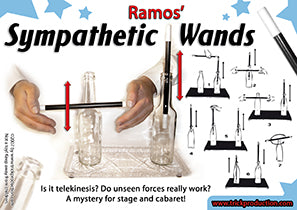 Ramos' Sympathetic Wands
Regular price $0.00 $41.99 Sale
The Sympathetic Wands use a fascinating variety effects that involve levitation, animation and Telekinesis.
You show two regular soft-drink bottles made from glass and two normal wands. Everything rests on a nice looking tray.
Place one of the wands into one of the soda bottles and touch the wand with the other wand. Move the wand in your hand up and down. The wand in the bottle moves up and down as if connected by magnets to the other wand. (No, there are no magnets involved!)
Place one of the wands in one bottle and move the other wand in front of the other bottle up and down. It makes the same movements and moves up and down in the same way!
Something unexpected follows: After one wand has been placed in one of the bottles, the other wand is placed in the second soft-drink-bottle: Now the first wand shoots upwards as if there was not enough space for it in the bottle! The wand now levitates free inside the bottle. When you push it down, the other wand starts to levitate in the other bottle! In the end, both wands levitate inside their bottles!
At the end of this fascinating routine, you place one of the wands vertical on top of a bottle and concentrate while not making any move... the wand starts to rotate - first slowly and then faster! Take the wand in your hand and take your bow!
Is it a complicated mechanical marvel? Are wires used or is a thread running through the room? Is there a secret assistant...? Nothing like that at all! The innocent-looking transparent tray contains the secret. You just have to place the wands in the bottles and everything happens nearly automatically.

No sleight of hand! No long practice needed!
Can be performed everywhere even surrounded by spectators!

Ramos Sympathetic wands comes with the special tray, detailed instructions and gimmick. You will need two wands available from any magic shop.