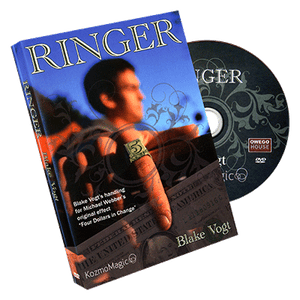 Ringer (DVD and Gimmick) by Blake Vogt and Kozmomagic
Regular price $0.00 $26.99 Sale
Magic that happens in the spectator's hands is always the most powerful and memorable magic. Blake Vogt's adaptation of Michael Weber's "Four Dollars in Change" is just that... POWERFUL and something they will never forget! 
Imagine showing an origami ring crafted out of a $5 and placing it on the spectator's finger for safe keeping. A $1 bill is shown and tapped against the origami ring on their finger. Immediately the bills change place. The $1 bill visibly transforms into the $5 bill that was just on the spectator's finger. The spectator looks down to see their origami ring is now made with the intricately folded $1 bill. This is a giveaway the spectator will keep forever. 
Blake Vogt has used Michael Weber's creation with permission and added a shockingly visual transformation. 
Easy to do. Visual. The perfect opener. 
"This is a just Killer!" - Eric Jones