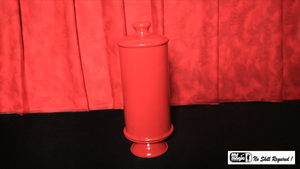 Santa's Table Side Candy Cane Machine! Just like table side Guacamole, only better!!
Regular price $30.99 Sale
If you have ever been to a Mexican restaurant and ordered table side Guacamole,  you are going to love this!
Now you can make candy canes table side! Ask for a few packs of sugar that are always on the table and put them in the container,  ask them if there is anything missing.  Color!! Pull a couple of red Crayons out of your pocket, break them up and toss them in the container as well.  Cover it to let it stew for a minute and Presto!!  Candy Canes!!  
 This is an amazing easy trick that you can use for your home, stage, and school gatherings.  This has been used for years by magicians everywhere, but use it to show how magical Santa can be.
This reception prop can be used to create hundreds of effects, limited only by your imagination! For example, you can transform different colored liquids into different colored silk hankies to match the colors of the liquids. Looks great!