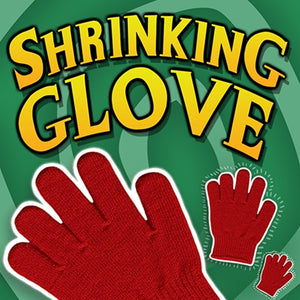 Santa's Shrinking Mittens !
Regular price $31.99 Sale
Master the art of transformation with this two-step routine.
The elves love Snowball fights!  In order to make it fair, they all wear red gloves, but sometimes they lose them.  Who do they go to?  The big guy himself, Santa!  Santa's Mittens are much too large for the elves so with a little Christmas Magic, he can loan his gloves to them in their size!  It is an amazing change and all the kids love it!! 
The spectator freely chooses from two identical gloves. As they take one in their hand, they'll never expect what happens next. When they open their hand, the glove has decreased in size. In the next moment, the glove dramatically shrinks again to a tiny elf-sized glove!
 You begin wearing a pair of knit gloves. Remove the gloves, give one to a child. Then say the magic words, and the glove has shrunk! A very funny effect and a wonderful, magical happening right in their hands!
This effect is based on the 1997 Incredible Shrinking Glove by Rob Stiff