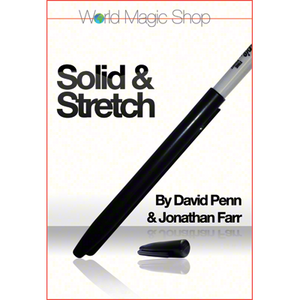 Solid and Stretch (DVD and Gimmicks) by David Penn and Jonathon Farr
Regular price $0.00 $40.99 Sale
"Great for table hopping as everything resets as you go." -David Oliver, Genii Magazine
Mess with your spectators' minds as they fail to return the cap you just removed from the pen. It is literally Solid.

The only way to solve this problem, is to take the lid back and Stretch it to three times its normal length, before casually re-capping the pen and returning it to your pocket!

With additional ideas utilizing a black 8 ball and full routines explained by David Penn, these are the perfect props for creative magicians.

Solid by David Penn & Stretch by Jonathan Farr.