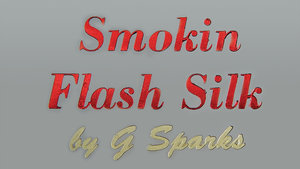 Smokin Flash Silk by G Sparks
Regular price $50.99 Sale
"This great utility prop is designed for my beautiful silk and flash routine."
A SELF CONTAINED FLASH
AN ASH TRAY WITH BUILT IN SECRETS
PERFECT FOR ANY BURN AND RESTORE ROUTINE
Enjoy the Magic by G Sparks
The push button electronic flash ash tray with a built in secret, works with one AAA battery, (battery not supplied). 2 beautiful 9 inch silks, (silk colors vary) and my silent silk pull.
Plus the how to link.
Made in USA
Just add your own flash cotton and sparkle powder.
NOTE:
 Each unit comes with 3 extra ignite wires and you change the wire with a needle nose pliers, (pliers not supplies). Each wire will fire the flash over 50 times.
NOTE:
 Refill flash wires and connectors are available and interchangeable for all G Sparks Flash Effects.