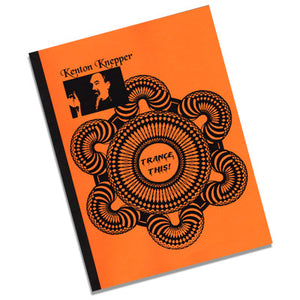 Trance This by Kenton Knepper
Regular price $36.99 Sale
"Since Wonder Words and other Kentonism material many performers have made names for themselves in part by using seeming trance states. Some of this they achieve directly from Wonder Words and other of my works using language, psychology and dual or multiple realities to create a supposed trance state. At times these performers use actual states of relaxation or 'trance states.'
To try and satisfy the needs of those who wanted more of this type of material, I decided to write a short series called 'Trance This!' It is intended as a quick reference guide for those wishing to perform seeming trance states in with their usual performance work.
In TRANCE THIS! I give you easy to apply, practical trance illusions. You will find loads of new material, previously known only to some close friends and consulting clients. You will also find updated excerpts from out of print works of mine in this release as well. Popular but hard to get material such as 'The Ring' that was a very limited item which I pulled off the market once it was borrowed and sold by others for instance, is included in Trance This! along with the new material.
The best news is that with these methods you need not fear. My approach has always been with this starting point: Work any altered state method into a trick so that the suggestion seems to be patter presentation only. Rely on physical tricks to be sure something happens. Then be prepared for the real suggestions to take place.
Whether you perform close-up, in your living room, for just a few friends, on the largest stages, or on television, there are techniques here that will work for you. They simply must work! More daring items are presented too, of course.
It is easier than you think, and yet profound. In TRANCE THIS, you are taught both techniques which can be applied to your own material, AND some powerful, real-world effects from my repertoire that you can and will easily do.
TRANCE THIS! is not for curiosity seekers or those who have not learned, or do not perform, magical entertainment. This material is for mentalists and magicians ONLY"
- Wonder Wizards
63 Pages