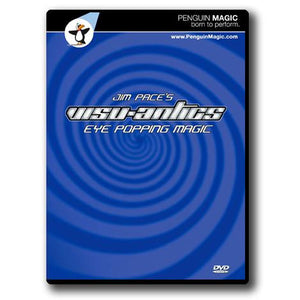 Visu-Antics by Jim Pace
Regular price $29.95 $30.99 Sale
Eye popping Magic!
Jim Pace is one of magic?s most visual close-up artists. Working 4 restaurants per week for over 20 years has taught him to create flashy, attention-getting magic that makes audiences scream. It?s magic that?s low on set-up and high on pay-off. The video is jammed packed with some of the best gags, stunts, and magic routines you're ever going to see. Best of all, this stuff is easy and you'll wind up doing most of it!

Crushed

 

- A bottle instantly appears at your fingertips and vanishes just as quickly. It?s a revolutionary new technique without topits, body loads or holdouts!
Freaky Fork

 

- A borrowed utensil mysteriously bends under impossible conditions - TWICE!!
Hat Trick

 

- Your arm completely vanishes as you reach into a borrowed hat! It looks even BETTER than it reads!
Impromptu Princess

 

- Perform the world famous Princess Card Trick any time, anywhere, with any deck!
Impossible Color Change

 

- A visually impossible color change.
Magic List

 

- Predict a spectator?s free choice of a word!
Mental Card Stab

 

- A thought of card is STABBED in mid air!
Penzoil and Water

 

- A single phase done completely in the hands!
Parallel Sleeve Vanish

 

- Perhaps the cleanest most invisible coin vanish in the world . . .. guess where it goes? And at what angle??
Peripheral Bounce

 

- The old gag of bouncing anything - a brick, a potato, even a check!
Quick O Chink

 

- A one-phase matrix that takes 2 seconds to perform!
Pocket Pen Vanish

 

- Vanish any pen with short sleeves . . . and show your hands completely empty!
Shrinking Pen

 

- Visibly shrink and ordinary pen down to 1/3rd its size!
Stealing Away

 

- Jim?s technique of stealing and reproducing 2 glasses from a dinner table.
The Bet

 

- Jim loses 3 selections into deck, vanishes the entire deck, and then plucks the selections from midair!
BS Prediction

 

- Predict the serial number of any borrowed bill!
TV Coin Vanish

 

- Looks so good (from the front), that you could perform it on . . .
Walter Gibson

 

- Jim?s tribute to one of card magic?s top creators.
World?s Fastest Card Trick

 

- A thought of card is plucked from mid air!
Honk

 

- Who needs a squeeker? This is a sound effect you make that can be used anytime and anywhere!!