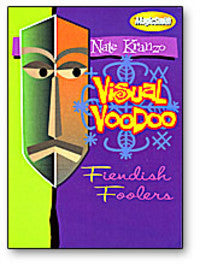 Visual Voodoo by Nate Kranzo (DVD)
Regular price $25.99 Sale
Just when you think a trick is over, Nate throws in a surprise kicker - and to top that, sometimes there's a kicker to the kicker! You will learn:


MELTING COIN -- A diabolical routine that uses two of your favorite things - fire and money!
THERDNASE -- A triple color change so amazing, Nate out-experts Erdnase under the table.
MUGGER -- Three coins change visually as you drop them into a mug.
STANDING UP TO RAY AND BILL -- A no-table Triumph paying tribute to Kosby and Goodwin.
HOT SHOT POCKET -- Daryl's Hotshot Cut with a starting card to pocket transformation.
HOLY POCKET -- Three Coins dropped one at a time in your breast pocket rip right through the fabric, without destroying your jacket.
Tornado Straw Pierce the bottom of a fast-food cup with a straw - then restore the cup faster than you can run to the bathroom.